The Injuries Board
The law in Ireland is that all personal injury claims (except medical negligence cases) must first of all go through the Injuries Board process. Contrary to what the Injuries Board will tell you, dealing with your case through the Injuries Board is not entirely a "cake walk" and there are certain pitfalls and potential for certain things to go wrong.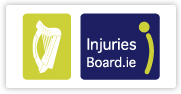 The first thing to remember is that the Injuries Board are not acting for you. They are an independent board set up by the Government to assess the amount of compensation which you are entitled to for personal injury. When it was set up, many of the staff working in it came from the insurance industry. They are not there to advise you. If you get any part of your application wrong, then you will suffer the consequences. For example if you incorrectly state the name of your employer or forget to make a claim within the strict time limits which apply to your particular case or alternatively if you get the date of your accident wrong.
The Injuries Board have been known to get it wrong and make assessments which were way below the true value of an Applicant's cases. In one particular case we dealt with the Injuries Board assessed the case at €25,000 and we managed to settle the claim for a figure closer to €150,000! The Central Bank of Ireland in a Report published on the 7th October 2011 states "For claims assessments that were made by the Injuries Board and subsequently rejected, it was noted that the ultimate settlement was higher that the Injuries Board.ie assessment". Remember when dealing with the Injuries Board that they are not pussycats. They were set up for a reason and our firm view is that you are better off dealing with the assistance of a Solicitor than on your own.
If you think we can help you in your dealings with the Injuries Board, then please contact us at the number below and make email contact with us. We will make contact with you and advise how best to proceed.